The Export by Channel feature, found within the People Search results menu, allows you to prioritize what form of communication you would like to use in reaching out to your donors and prospects.
How to use the Export by Channel Feature in People Search
Run the People Search query like normal. See the Julep – People Search guide for additional information.
Click the button to view additional export options as shown below: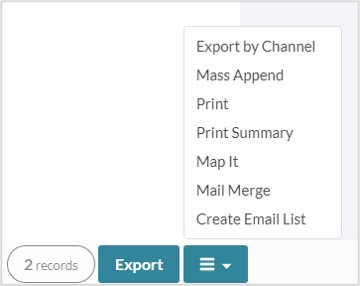 Click on the Export by Channel This will open the advanced export option window.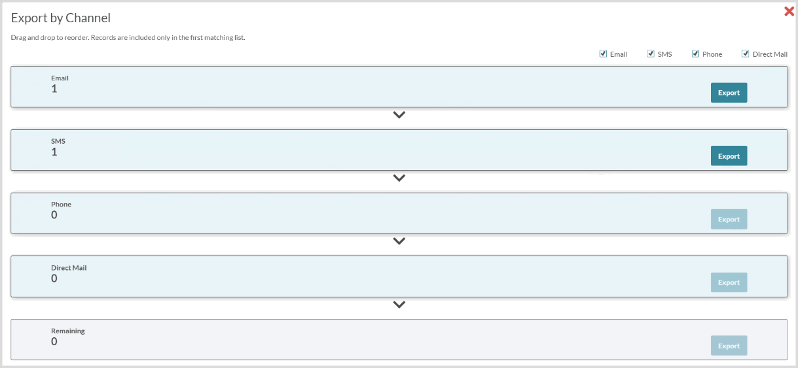 Here, you can view each list to be exported by communication channel:

Emails – Records with a valid form of email address
SMS – Records with mobile phone #'s
Phone – Records with home phone #'s
Direct Mail – Records with a complete mailing address

To change priority level for each communication channel, click and hold the channel. Then drag the channel up or down and let it go. After each change in priority, all channels will automatically update the final counts of records to be exported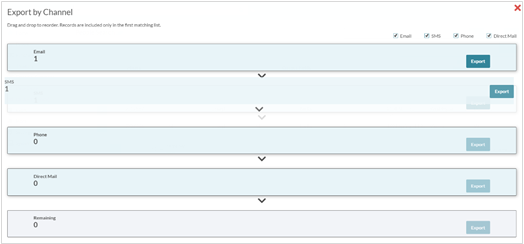 Excluding Channels – If you do not want to include a channel in your final lists for export, you can click on the checkbox next to the channel name in the top right corner of the window, and it will be excluded.
Suppression of Flags – Each channel also has an option to suppress specific Flags from being included in the final export. For example, you can suppress files marked with a "DNM – Do Not Mail" Flag from being exported for the Direct Mail channel. (Note: See How to Create Suppression Flags for Advanced Export.)
Once you are done organizing your lists, you can click Export for each one. Please note, unique people records will not pull on more than one list. So, in the example above, if a record has an email address, it will pull on that list and not the subsequent lists for each channel following it.
The Remaining section is for records that were not selected by any channel.